---

EN: EARTH NETWORK: © Copyright 2018 by: EN: All Rights Reserved.
How to Get Rid of Problem People & Situations? How Do I Stop Bullies & Social Degrading?
Key to Freedom From Problem Situations &  People
---
What Do You Always Control?
There is one thing you always control no matter how difficult your life is. Even if you are a victim of another person or are held back by unreasonable people and restrictions, you control how you can react, and your reaction can potentially bring you freedom from the problem. Regardless of your problem, you control your thinking.
Changing reactions changes your reality
There were times in my life when people were cruel and unfair to me. I suffered from a seemingly endless pattern of abuse until I learned to change my reaction.
Being upset only hurt me, it did not hurt the bully, and it did not change what had happened. And if the bullies knew I was tormented, they were winning.
Our automatic negative emotional reaction to any problem adds negative energy to the situation. If there are other people involved, they feel your energy and emotional reaction and as a result realize that what they are doing is working and this encourages them.
In any situation when people pick up fear or negative emotions this elicits reactions from them that tend to make the situation worse. Your emotions and beliefs tend to cause reactions in-keeping with those emotions and beliefs. This is because you are directly connected to other people through telepathic pathways.
When you change the energy dynamic you alter the outer situation.
Why diets don't work NOBEL PRIZE Winner's Findings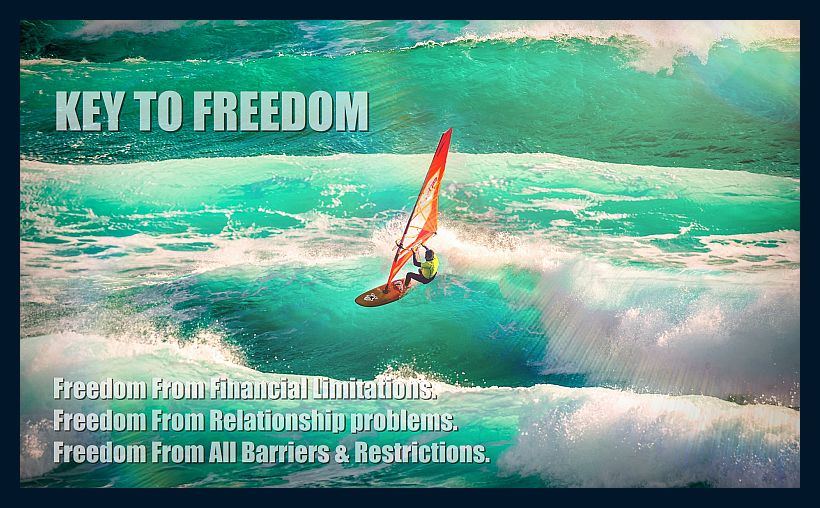 Why don't scientists believe that mind forms matter?
Many top physicists do know that mind forms matter. It is the rest of science, media and the world who do not want to listen to what they are saying.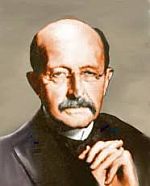 Max Planck, Nobel Prize winning father of quantum mechanics says, "I regard matter as derivative from consciousness."  — The Observer, 1/25/1931.
Max Tegmark of MIT
Click on the "Max Tegmark of MIT" button below to see current official confirmation from a respected physicist in the scientific community that matter is a state of consciousness.
Consciousness Is a State of Matter: Max Tegmark (MIT) Matter Wave
The official scientific establishment as a whole does not want to admit consciousness creates matter. There is a reason why.
Early scientific instruments could not measure consciousness or quantum activity. Scientists could not prove or disprove anything about consciousness, and so they eventually assumed consciousness had nothing to do with bottom-rung reality, without proving it did not. Eventually science as a whole took the official stance that consciousness had nothing to do with bedrock reality.
To go against the materialistic view that was adopted by the world is to threaten the entire worldview and authority of science.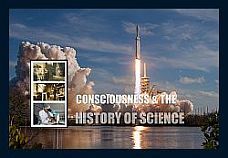 "Few realize mind forms matter because the worldview of educators, the legal and medical establishment, media and society, is based on the consensus that comes from the bias scientific establishment rather than individual physicists.
Myths that can hold you back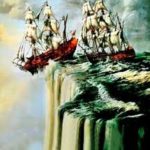 There are collective myths by which we interpret our reality. These myths are obstacles to creating what you want in life. The myths are given to us by experts because that is what they went to school to learn.
The only truth you will get from highly educated people comes from a few great intellectuals which the establishment won't dare attack, like Einstein and Max Planck.
Remove the great myths of modern man from your mind to more easily create what you want like dramatic financial windfalls.
There are collective myths by which we interpret our reality. These myths are obstacles to manifestation ability.
Remove the great myths of modern man from your mind

 to more easily create what you want like dramatic financial windfalls.
.
There is no such thing as cause and effect except as applied to psychological activity. The past does not create the present, your thoughts and emotions do.
Quantum mechanics tells us that the universe is not built out of physical electrons like bricks in a house, but instead is a continuing projection of energy like light coming out of a light bulb. Photons shoot by you at the speed of light. Your environment is created in the same way.
Each pulse of light creates a hologram we experience as the physical reality around us. Each pulse, however, is a complete recreation. The past does not create the present. The entire universe is recreated every fraction of a second, and it is a projection of your mind.
The past does not exist, only a spacious present exists and what you think is the past is a portion of the spacious present. Your present beliefs, thoughts and emotions regulate and control the content of each pulse that recreates the universe every fraction of a second.
Because of our belief in time and consistency of thought there is a consistency in what is projected. Our environment will change gradually as our thoughts do, and this gives us an impression of moving through time. This is a false notion, however.
To get back to the main point, when you free yourself of the myth of materialism you realize that anything can be created simply by changing your beliefs, thoughts and emotions. If you transcend the myth of physical cause and effect and replace it with the concept of thought projection in a spacious present your mind is twice as able to create a windfall.
You must free yourself from conceptions of time-space limitations to become free to manifest what you want
To create a windfall, change your belief system and dwell on thoughts and feelings of receiving a windfall..
There is no past or future, there is an infinite, spacious present. You draw probabilities out of this vast source of events by what you think and feel.
Cause and effect applies only to inner subjective activity. Your thoughts are the cause, and your life is the effect. Change your thinking and you change your life.
EARTH NETWORK BOOKS By William Eastwood
Click above.
I have changed my beliefs & reactions
Because of the internal changes my social interactions are now primarily positive
And because of my achievements, the ones who heartily disliked me are probably themselves tormented by my success. Either that or they are completely unaware that I have come so far and achieved so much.
There are deep scientific principles behind this concept. Quantum mechanics tells us that everything in the universe is one unbroken field of energy. We are connected to other people and events. Our reactions, therefore, are capable of altering those events.
Excerpts in this article are taken from my book that this article is describing.
How to materialize lots of money
How I repeatedly materialized cash
If I can materialize eleven twenty-dollar bills in one summer you can learn to do the same.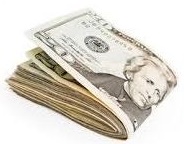 A few months back I found an envelope with four $20 bills in it and no identification. A few weeks after that I found six $20 bills folded together. A week later when I was walking to the bank and thought I should try to manifest more. I closed my eyes for a few seconds and visualized $20 bills. I was focusing on how I felt the last time I found $120.
Unbelievably, as I opened my eyes they were already fixed on a folded and partially crumpled bill.
In a second of amazement I recognized the color of money, then I looked for the denomination, and because it was a little crumpled it took a few seconds before I realized that I was looking at the number two on a twenty dollar bill!
I quickly scooped it up and put it in my pocket with triumphant glee as I scanned the street for more. I text my sister whom I was with when I found $120, and told her "I did it again!" She text me back "Good work."
Of course you are wondering what my secret is. I had been focused on making money for over a year, often saying affirmations while filling myself with the feeling of having and making money. It is something that happened because of the cumulative effect of my constructive focus and creative efforts.
I want to mention that I was feeling on top of the world the morning I found the eleventh $20 bill. I was focused on the feeling of the perfect summer day near the ocean in New London, CT. In general, the more positive thoughts and feelings we have the more likely it is that we can manifest positive events and objects like finding money.
 Prerequisites to manifest money
You understand your thoughts and emotions create your reality.
You minimalize contrary thought energy by focusing on what is working in your life.
You manage your thoughts and emotions consistently, aggressively visualizing and affirming what you want multiple times every day.
The second requirement is a challenge for most because your mind is restless and tends to try to solve problems by focusing on what is wrong. This is a very poor policy unless you want to materialize more problems.
If I can materialize eleven twenty-dollar bills in one summer you can learn to do the same.
Materialize Lots of Money
Websites with Matching Content
Click above.
The Benefit of Not Feeling Hurt
Imagine that I am really, really hurt by someone, but instead of feeling deeply hurt, I change my reaction. By not being angry at the person hurting me, or feeling any kind of emotional pain or self-pity, I change reality, literally.
If my reaction is to ignore or downplay the harm and negativity as much as I possibly can, events change. They must.
Suppose I deliberately shift my focus to a recent opposite kind of event in my life, such as when someone was really kind to me? Suppose I say an affirmation, "people like me, and I like people."
Suppose I told you that scientists had discovered that everything was conscious energy and that you could stop victimization by your thoughts?
NBC NEWS REPORT Universe is conscious
Science has discovered that everything is energy we affect by our thoughts and emotions. In light of recent discoveries in physics, the responsible and logical reaction is to change the dynamics of the situation.
You can undermine the power of the offender and offense by not feeding energy into the offender's energy and intents. Your reaction can withdraw energy from the undesirable aspects of the situation and substitute the opposite energy.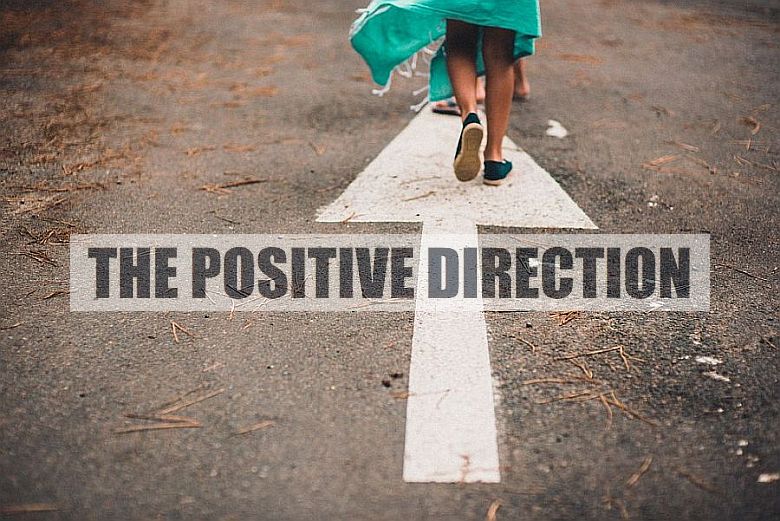 How the Concept of Time Can Work Against You
Clock time is an illusion
It does not exist.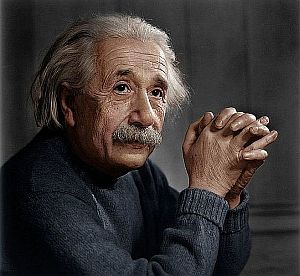 There are natural patterns of perception, such as the sunrise and sunset, day and night, seasons and tides, but there is no clock time. Clock time is an example of the hypnotic effect of false modern myths.
As your subjective activity naturally changes it causes changes in the holographic projection of your environment and this gives you the false notion of moving though time.
A belief in clock time brings risk. It brings with it the false belief that you are a victim of both time and events. In a sense, it is a dangerous and false notion.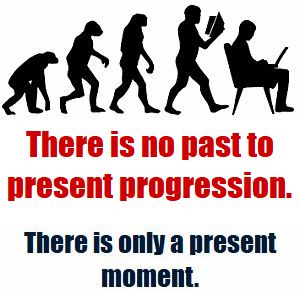 The truth is that you control what enters your life. Time and cause and effect have nothing to do with what you are experiencing right now.
Your house can't burn down because someone started a fire, and you can't get a disease because of some germ you encountered yesterday. Instead, what you believe, think and feel draws that experience to you.
If there is a fire you in some way attracted it and decided upon experiencing it, and up until the point it is ignited you can change your mind. Even after the fire is started you can attract and manifest the fire being snuffed out.
If you understood this, you would gain power. You would understand that if you change your thinking you advert pending disasters. When you think those pending disasters are outside of your control you are hypnotized by cause and effect time thinking.
This trance perpetuates the illusion and undermines your true safety in life.
How do I manifest what I want?
Saying affirmations is the first and most basic way to manifest what you want.
.
It is also the most effective way to learn control of your mind. You need a positive mind & imagination under your control. Otherwise you won't get anywhere.
Affirmations train your mind to control and direct energy to manifest what you want.
Affirmations are used to create what you want in your life, like more money, a new car or a loving relationship.
Affirmations are one of the most effective ways to direct and manipulate intense positive energy in highly beneficial ways. The energy you move more effectively in this way will work wonders in all aspects of your life.
If you do this in the right way you will evoke powerful positive changes and transitions in your life, even bringing about an entirely new reality if that is what you want.
An affirmation is a simple statement you repeat over and over again to program the subconscious mind to create what the affirmation says already exists. What begins as a make-believe-statement later manifests in your life as a physical reality.
This is how you create what you want in life. If you properly affirm, "today I am going to have a good day," you dramatically increase the probability that you will.

Saying affirmations like, "I am making more money every day," actually manifest that as your reality.
For best results say affirmations over and over again with conviction and emotion.

Every day I provide a list of valuable affirmations with some guidance as to how to manifest what you want in your life. Click icon below.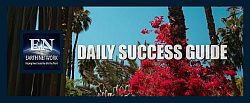 You can also visit the ThoughtsCreateMatter.com manifesting page (below).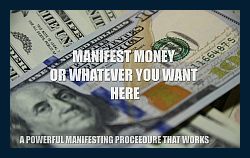 Click above.
How Do I Get Rid of Mean People & Other Problems? 
What if I said that by changing your attitude toward seeming victimization could make future victimization impossible? It is true that we can make it virtually impossible for others to hurt us.
But we can only do this when we understand reality and respond appropriately.
By appropriately, I mean the ways I am teaching.
Do You Have a Problem in one of these areas?
• An unsatisfying job.
• Controlling people or agencies.
• Relationships that are problematic.
• Low wages or lack of money.
• Bullying or degrading treatment.
• Internal or external barriers to success.
If so, you may be surprised at what the answer to these problems is.
Imagine if the most fun way to live your life was the most responsible and best way to solve these problems? That is what I have discovered and that is what I explain in the Key.
The answers are where professionals least expect them to be.
Everyone is looking in the wrong areas to solve their problems. The way to break free from financial limitations, victimization, bad relationships or any other problem is not what you think.
The Key may be the last thing most experts would have thought possible. This is precisely why so many have failed to discover the Key.
The solution is not what we were taught it was in the previous century. The solution to our problem is to be found in the opposite direction. The experts are in the wrong forest.
---
"We cannot solve our problems with the same thinking we used when we created them."
– Albert Einstein
---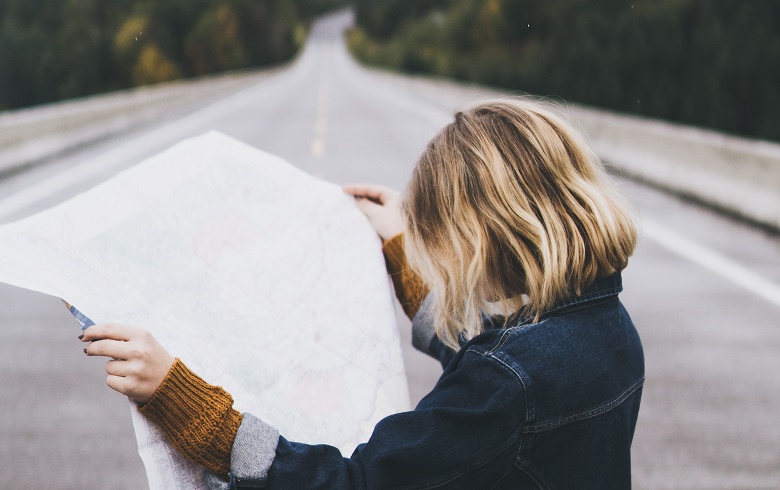 EVERYTHING YOU WERE TAUGHT IN SCHOOL IS FALSE
EVERYTHING YOU WERE TAUGHT IN SCHOOL IS FALSE
Matter is composed of the same substance as your thoughts. To go directly to deep metaphysical content click on this (first) image.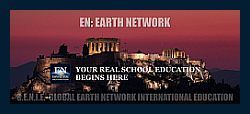 Icon links below are complimentary websites.
If you are new to this subject click on this image. This is the most popular article.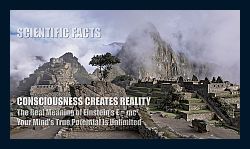 The findings of physics conflict with mainstream worldviews. It all opposes what parents, society, various disciplines, schools and mainstream media hold onto as the only truth they know.
People want and need to believe what they were taught, but what they learned is based on sixteenth-century science which Nobel Prize winner's findings and quantum physics proves wrong.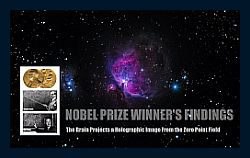 Materialism, Darwin's Theory of Evolution, Freud's psychology, most theories regarding human nature in mainstream psychology, and scientific thinking in general (ideas about time & space) are all incorrect and detrimental.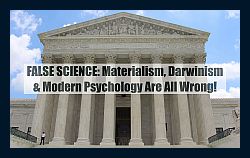 Your beliefs, thoughts and emotions create conscious units which grow and combine below your subconscious. When they reach sufficient intensity they manifest as events or objects in your life.
Free Articles & Education.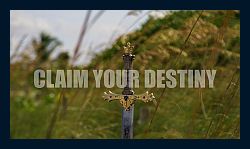 The three additional sites I link to on this website are meant to be used together.
Where do I get affirmations?
IN THE DAILY AFFIRMATIONS & GUIDANCE PAGE
The most powerful visualization procedure is posted about every seven days.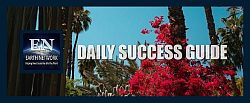 Get the best advice here for FREE
Option two.
You can also go to the ThoughtsCreateMatter.com manifesting page.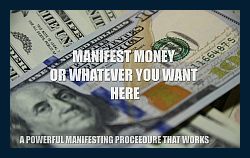 Click above.
The wrong map depicting reality
A map depicts the nature to the territory it portrays, and this allows people to successfully navigate that territory. If it is inaccurate people will lose their way as long as they are using that inaccurate map. Without an accurate map of reality, we cannot find our way to solving our problems. The inaccurate map in this case is our civilization's entire paradigm (worldview of reality).
Almost all the problems in our lives and the world come from using the wrong worldview and premise of a mechanical universe on which to base our lives and actions. The wrong map will just get us confused and lost. We must instead understand the new paradigm of quantum mechanics. We must take its premise and principles to heart and apply the philosophies that it supports as being accurate. We must learn to do this automatically with whatever issues present themselves in our lives, be it minor or important matters.
Consciousness as a form of matter
We can be free of our problems very easily
It is time to meet life in new, more responsible, logical and liberating ways that will eliminate our personal and global problems. This is not hard to do.
---
"A new type of thinking is essential if mankind is to survive and move toward higher levels."
— Albert Einstein
---
Learning what to make of quantum mechanics.
I've already given you an entirely new view of reality based on the facts of quantum mechanics. You don't need to understand quantum physics. You only need to know that it disproves the mechanical view of reality.
The picture of the nature of reality that quantum mechanics gives us conflicts with official "knowledge" about reality. This is why it is so confusing to people. The basic facts about reality most of were taught are incorrect. Time, space and cause and effect are we interpret them are faulty concepts on which all modern thinking is based. We have a faulty map.
If the premise on which our approaches and methods of solving our problems is wrong the methods must be too. They are not going to work, and we are going to be besieged by problems and dissatisfaction.
If professionals have their facts about reality all wrong, their methods which are based them are going to be wrong too. And they are.
I've told you that your body and your environment are being created in the present moment. There is no time. The past and future are a portion of the spacious present.
I have compiled the best of all of this information I have given you in this website and put it in You Are a Beautiful Person ‒ Key to Freedom.
This book takes everything in this website, consolidates it into one simple key and brings the information to the next level. This book goes one step further in clarifying what it all means and how to apply it all in the easiest way possible.
When you are presented with a lot of information that is different from what you have been taught it can be hard to make sense of it, to know what to do with it or how to apply it. I wrote this book to solve that problem.
I've boiled down all the ideas I've given you in all my writing to the most important Key for practical application of the concepts. With this book you know what to do with the information in the simplest terms.
EN will end pain & suffering in the world
EN is going to be a powerful force to end pain & suffering in the world
The people of the world can solve their problems and advance to a whole new level. I love humanity and want to end the suffering in the world, and I am intent on doing it.
We are altruistic beings, and we create our reality. You can manifest anything you want.
None of this is new to me, I've known all of this since the early 1970's. There needs to be a university that teaches the truth and is not afraid to put it out there.
I have applied the principles of conscious creation since 1975. Feedback from 43 years of applying these principles is uncommon. Less than one tenth of one percent of the population even knew of these concepts 43 years ago.
I am highly motivated to end pain and suffering worldwide. The new age is beginning.
My articles will reach people at the level of understanding they are at, and then I will increasingly explain their true powerful and unlimited nature.
Accumulated knowledge in all fields is based on a false premise. Curriculum from grade school to university must be overhauled. This international university initiative provides the new science facts and guides you with only exactly what you need to know for maximum success in life.
Is EN's intent to end the pain & suffering in the world unrealistic?
Click above.
Work is not necessarily the best way to solve your problems.
The world is living by the mistaken idea that hard work can solve all problems. People expect to have to work hard for anything good. Their beliefs manifest that as their reality. This makes life difficult and causes other problems.
It's all so simple and easy if you know what to do. You can create whatever you want in life easily.
---
EN's Course
You Are a Beautiful Person
- Key to Freedom
Volume One of EN Course.  (pub. 3/17/19)
6" by 9" paperback: 342 pages.
List Price: $34.99.  Price: $24.49 You Save: $10.50 ( 30% )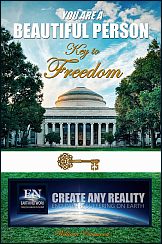 EVERYTHING YOU NEED TO CREATE THE LIFE YOU WANT!
BRAND NEW! EN's complete manifesting course. Put an end to all your limitations & acquire the knowledge you need to create your desires.
Reveals how you can manifest any reality you desire.
Basis of THE KEYS, guidebooks on how to free yourself of all limitations in life.
---

The First Key
to Freedom
By the author of this article.
Brand New! (pub. 3/21/19!) 118 pages. 6" by 9" paperback
EN Course: First Lesson
List Price: $18.98 Price: $13.29 You Save: $5.69 ( 30% )
Go to the next level.
Waste no time with this powerful guide. Open to any page, read a few lines & that's all you need to do to transform your day & life.
Life is supposed to be easy. Like attracts like. You have a magic genie. By outflowing positive emotion, you attract positive events.

Get The First Key & onto the road to your dreams.
Anything is possible. Create your dreams. Start today.

We need to wake-up within the dream, and enter our true life.
How to Get Rid of Problem People & Situations? How Do I Stop Bullies & Social Degrading?
© Copyright 2018, By: William Eastwood.
---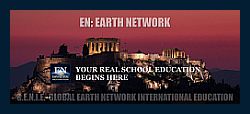 EN: EARTH NETWORK
www.MindOverMatterPower.com
---


G.E.N.I.E.  Global Earth Network International Education
EN  Earth Network
---
Learn to direct mental energy to create what you want in life
How does my mind create physical reality?
Multidimensional self & powers of the inner self, soul & spirit
How can I learn to materialize what I want & manifest or create what I want with my mind
Thoughts form the body's health, weight, appearance, wellbeing & beauty 
Thoughts form matter & how to create the life & reality you want
Mind forms matter site: Consciousness creates reality & mind forms matter
---
Stay in touch with these principles wherever you go
---
www.MindOverMatterPower.com
How Do I Get Rid of Mean People & Other Problems? Stop Bullying, Restrictions & Limitations.
---
Categories: How Do I Get Rid of Mean People & Other Problems? Stop Bullying, Restrictions & Limitations? Consciousness creates matter. Stop Bullying, Restrictions & Limitations. How do I prevent bullying & stop bullies?, Your thoughts affect and form events. Changing your reactions, thoughts & emotions to get rid of all problems. How to stop mean people, bullies, limitations, restrictions and financial limitations. Click on our site and books to learn more.
How to Get Rid of Problem People & Situations? How Do I Stop Bullies & Social Degrading?
There is one thing you always control no matter how difficult your life is. Even if you are a victim of another person or are held back by unreasonable people and restrictions, you control how you can react, and your reaction can potentially bring you freedom from the problem. Regardless of your problem, you control your thinking.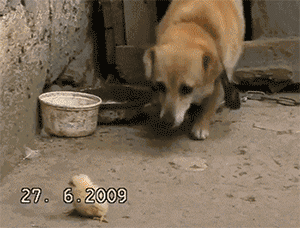 Civilization's progress depends on the realization that consciousness creates matter.

A Positive Mind & Emotions Create Positive Events.
5 star books & education
.





All your dreams are now coming true!.

The concepts conveyed in this website are within these books.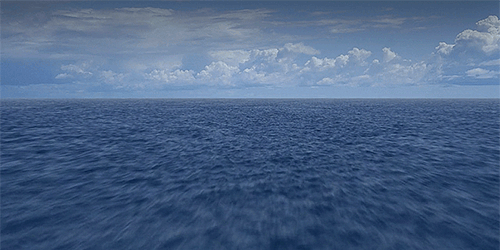 www.MindOverMatterPower.com